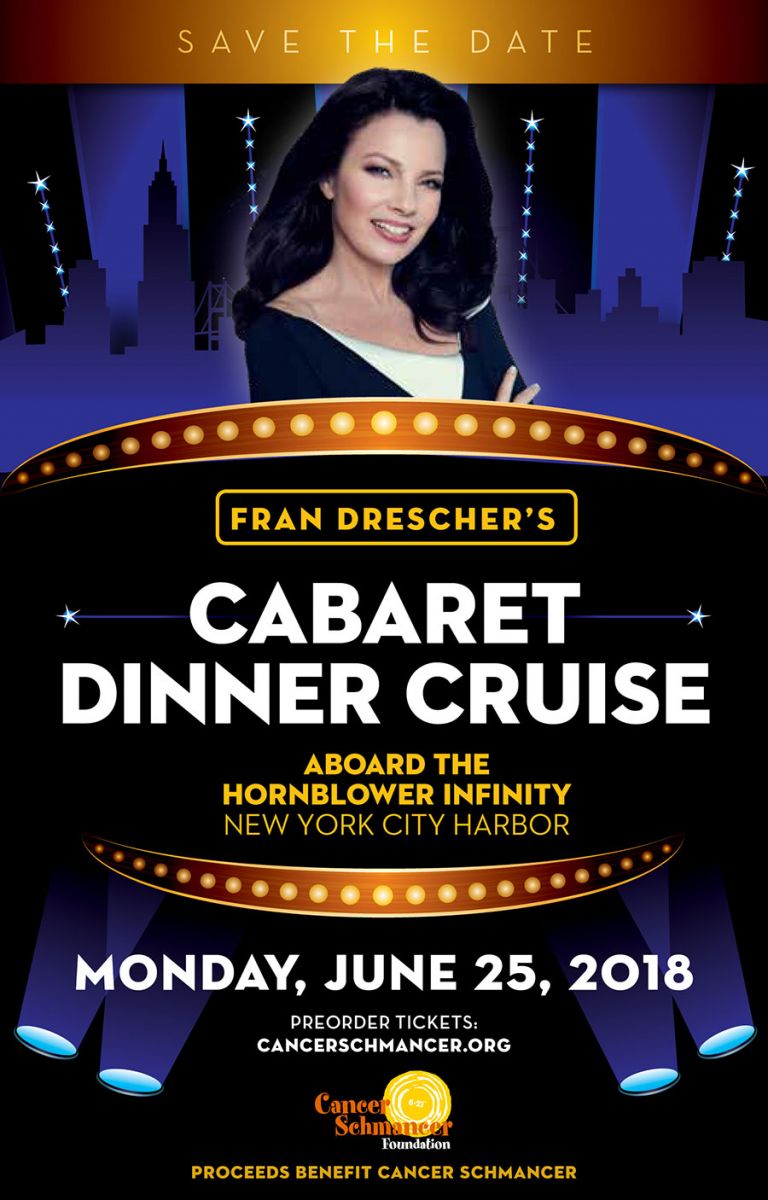 The glittering New York City skyline is the backdrop for an enchanted evening with Fran Drescher. Sail away for an exclusive, all-VIP experience with cocktails, hors d'oeuvres, dinner with Fran and some of her dearest friends, followed by a night of New York's finest cabaret talent. All aboard the luxurious Hornblower Infinity, one of the city's premiere concert venues.
Our photographers will take your exclusive picture with Fran on the red carpet before you set sail around the harbor for an intimate gourmet dinner with Fran and her special guests. Then live performances by Broadway and Hollywood's brightest stars including Andrea McArdle, Ann Hampton Callaway, Spencer Day, Stephanie Gibson, Ilene Graff, Kim Gravel, Peter Marc Jacobson, Will & Anthony Nunziata, Christiani Pitts, and Randy Roberts. And Marti Gould Cummings as Master of Cermonies! Keep an eye on this page for updates. See below for details on schedule, address, and parking.
Invite 9 friends and get a table! Table for 10
Large Group? Email info@cancerschmancer.org for details and pricing.
Please arrive between 4:30pm and 5:00pm for check-in. We set sail at 6:00pm.
Music provided by Donna D'Cruz.
Check out highlights from past cruises:
*Performer lineup may change based on availability
EVENT DETAILS
SCHEDULE
5:00 pm - Check In
5:30 pm - Boarding, Red Carpet & Photos with Fran Drescher
6:00 pm - Harbor Cruise & Cocktails
7:30 pm - Dinner. Ship returns to dock
8:15 pm - Cabaret Begins
9:30 pm - Disembark
ADDRESS
Hornblower New York - Pier 40
353 West Street
New York, NY 10014