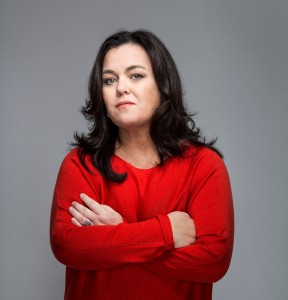 Through the years ROSIE O'DONNELL has served as America's best friend and a special inspiration to women of all ages. She was host and executive producer of the critically acclaimed and Emmy Award winning nationally syndicated talk/variety series "The Rosie O'Donnell Show," and most recently returned to daytime television as co-host of ABC's The View.
On the big screen, Rosie has starred in "A League of Their Own," "Sleepless in Seattle," "Another Stakeout," "The Flintstones," "Exit To Eden," "Now and Then," "Beautiful Girls," "Harriet the Spy," and "Wide Awake."  Her stage credits include the Broadway productions of "Grease," "Seussical." "Fiddler on the Roof," "Love, Loss and What I Wore," and the Encores! production of "No, No, Nanette., Rosie produced the musical "Taboo" on Broadway.  Rosie can currently be seen on her reoccurring role as Rita Henricks on ABC Family's "The Fosters."
As a tireless crusader for children, she established the ROSIE'S FOR ALL KIDS FOUNDATION, which has awarded more than $27 million dollars in grants to over 1,400 child-related non-profit organizations to benefit low income families across the country. ROSIE's THEATER KIDS provides free in-school, after-school and summer instruction in musical theater to the public school children of New York. Recently, Rosie received an incredible milestone in philanthropy when she was awarded the prestigious Isabelle Stevenson Award at the 2014 Tony Awards for her dedication, commitment and unconditional generosity towards arts education and New York City's public schools.