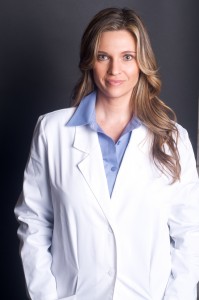 Dr. Kristi Funk, board-certified breast cancer surgeon and co-founder of the Pink Lotus Breast Center in Beverly Hills, is an expert in minimally invasive diagnostic and treatment methods for all types of breast disease.  She has helped thousands of women through breast treatment, including well-known celebrities, like Angelina Jolie and Sheryl Crow, who have turned to her for her surgical expertise.
Dr. Funk graduated with distinction from Stanford University in 1991, and received her medical degree from the UC Davis, School of Medicine.   After surgical residency in Seattle, WA, she completed a breast fellowship at Cedars-Sinai Medical Center in Los Angeles, where she then excelled as a surgeon and Director of their Breast Center for 7 years.  In 2009, Dr. Funk, alongside her entrepreneurial husband, Andy Funk, opened the Pink Lotus Breast Center in Beverly Hills. The Pink Lotus Breast Center fuses state-of-the art screening, genetic testing, diagnosis and treatment with preventive strategies and holistic, compassionate care.
The Funks plan to take the Pink Lotus model of breast care global with a strong focus on saving the lives of underserved populations.