Fran Drescher Has a New Pandemic Hobby: Mah Jongg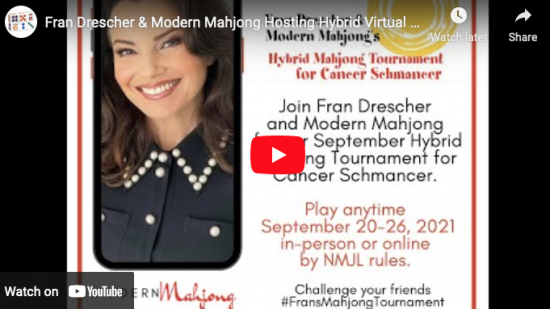 Click here to register for the tournament
Fran Drescher has a new pandemic hobby and it is oh-so-fitting. "The Nanny" star and Jewish fashion icon has recently taken up what is arguably the most Jew-ish pastime of all: mah jongg.
Though she's a new player, Drescher, 63, and mahj actually go way back. Not only is Drescher's mom, Sylvia, a lover of the game — Drescher fondly recalls watching her play — but, according to some mah jongg aficionados, "The Nanny" actually helped the game gain renewed popularity back in the 1990s.
"Fran mentions mah jongg four, maybe five times a season on the show, and it really helps," Roberta Last, a mah jongg tournament host, told the Las Vegas Sun back in 1996. "Shows like that have helped revive the game. We are seeing more and more young people and men get involved."
It was Fran's friend of 40-plus years, Michele Katz, who finally got her to play the beloved tile game. Katz had been trying to get Drescher to play for years and finally succeeded this year. She decided to put a group of close friends together to help Drescher learn the game. Drescher, in turn, invited another close friend, a recent LA transplant and game-night lover to join the group: Rosie O'Donnell.
(As it happens, Drescher and O'Donnell also go way back! In the '90s, Drescher's parents had a regular segment as restaurant critics on O'Donnell's show and, apparently in the spirit of being everyone's Jewish parents, they consider the media personality and actress a surrogate daughter.)
After one of those game nights in June, Drescher uploaded a video of the duo doing a little mah jongg victory dance to her Instagram. In the joyous, short clip, you can see Drescher and O'Donnell, both wearing hoodies, yell, "Mah jonng!!!" The duo then break out into a wonderful little dance — Drescher really knows how to churn the butter! — chanting, "We won mah jongg! We won mah jonng!"
You can definitely tell that this group of friends are genuinely having a wonderful time. Honestly, this video is making us want to play, too!