Fran Drescher: 'The Nanny' Star Discusses Her Rise to Fame, Iconic Style, and Cancer Schmancer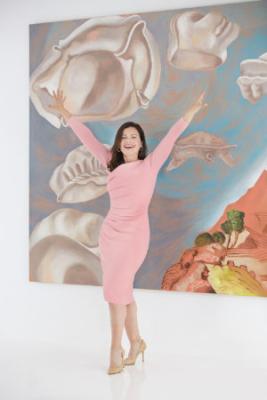 June 17, 2021 - You know her and you love her- It's Fran Dresher!! Fran shares personal stories about growing up in Queens, NY, her first role with John Travolta in Saturday Night Fever, how she came up with the hit show idea of The Nanny, and her organization Cancer Schmancer.
Love the Nanny's fashion?! Fran shares some of her favorite looks from the show, as well as how she achieved her iconic style. She also gives her tips to help you look and feel your best!
About Fran Dresher:
Fran Dresher is an American actress, comedian, writer and activist. Drescher is best known for her role as Fran Fine in the hit TV series The Nanny (1993–1999).
Drescher made her screen debut with a small role in the 1977 film Saturday Night Fever, and later appeared in American Hot Wax (1978) and Wes Craven's horror tale Stranger in Our House (1978). In the 1980s, she gained recognition as a comedic actress in the films Gorp (1980), The Hollywood Knights (1980), Doctor Detroit (1983), This Is Spinal Tap (1984), and UHF (1989) while establishing a television career with guest appearances on several series. In 1993, she achieved wider fame as Fran Fine in her own sitcom vehicle The Nanny, for which she was nominated for two Emmy Awards and two Golden Globe Awards for Best Actress in a Comedy Television Series during the show's run. In the 2000s, Drescher reinforced her position as a leading sitcom star with Living with Fran and Happily Divorced.[1]Since 2012, she has starred in the animated Hotel Transylvania film series.
On February 4, 2014, Drescher made her Broadway debut in Cinderella as stepmother Madame.[2] In 2020, she starred in the NBC comedy Indebted.
A uterine cancer survivor, Drescher is an outspoken healthcare advocate and LGBT rights activist, and is noted for her work as a Public Diplomacy Envoy for Women's Health Issues for the U.S. State Department. Divorced from writer and producer Peter Marc Jacobson, she lives in Malibu, California.
Photo Courtesy of Joey Carman Photography
The Katz Walk is a production of Evergreen Podcasts. A special thank you to Executive Producer Gerardo Orlando, Producer Leah Longbrake and Audio Engineer Dave Douglas.