A mystic sensation and a ghost race: Just a few of the wellness events arriving in October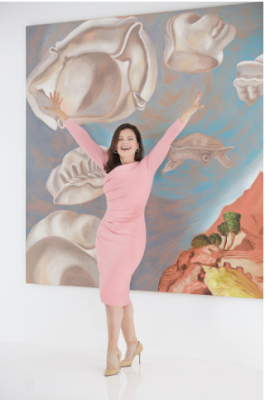 Here are four upcoming events that can help inspire you to do something good for your health — and for others:
Visionary Women hosts female empowerment events in and around L.A., and you can always expect standout speakers. Past get-togethers have seen talks with British attorney Cherie Blair, whose foundation fosters women-run start-ups; Nobel Prize-winning peace activist Leymah Gbowee; and endurance swimmer and author Diana Nyad.
"This is the first time we are inviting a mystic," said Angella Nazarian, co-founder of Visionary Women, which organizes events around Los Angeles. At the group's Oct. 17 salon, "Consciousness: The Ultimate Intelligence," Nazarian will be in conversation with Sadhguru, an Indian yogi, spiritual leader and social activist. The pair will chat about "male and female consciousness and creating a paradigm shift in the way men and women relate to one another. … In the current climate, it's an especially important topic," she said. Under a mentorship program, the group has invited 30 young students from underprivileged city schools to participate in the evening.
Info: 6 to 8 p.m. Oct. 17, SLS Hotel, 465 S La Cienega Blvd., Los Angeles. Tickets are $70. visionarywomen.com
Here's a way to run a marathon on your own schedule: Strava, the social network site for runners and cyclists (it tracks and shares your stats and offers regular athletic challenges) is partnering with athletic wear brand Lululemon on road races in Santa Monica and Pasadena. The idea: knock out a handful of smaller races that add up to a full 26.2 mile marathon course. Until Oct. 21, show up alone or with friends to take on the 8 kilometer (4.9 mile) course in Pasadena and Santa Monica. Strava is calling the event a Ghost Race because runners can compare their times alongside those who have run it before. And depending on when you get there, you might find real-life marathon perks like groups of supporters cheering and handing out water, as well as post-run snacks. The Oct. 21 Pasadena run is around the Brookside Golf Club; the Santa Monica course starts close to Will Rogers State Beach.
Info: Until Oct. 21, sign up at strava.com. Participation is free.
In support of October's breast cancer awareness drive, fitness app Gixo is organizing a 12-hour walkathon Oct. 20. Starting at 5 a.m., hourlong live classes on the app will focus on walking; follow along outdoors or on a treadmill. Do one class or more and, while registering, you can dedicate songs to friends and family members affected by the disease. As with all Gixo classes, you can see and interact with the coach and connect with others working out at the same time. At the end of the day, Gixo will tally up miles walked and donate $5 per mile per person to Bright Pink, a nonprofit organization that stresses prevention and early detection.
Info: Live online walking classes on the hour from 5 a.m. to 4 p.m. Oct. 20. Membership is usually $19.99 a month, but the app offers a seven-day free trial for new members. Sign up at gixo.com.
Actress and health activist Fran Drescher's Cancer Schmancerorganization is hosting a Master Class Health Summit Oct. 23, the theme of which is "how you live is how you feel," the cancer survivor said.
"Our mission is to make people connect their lifestyle with the disease that we all experience to varying degrees, because we live in very toxic times," she said. "We have to understand what is causing all our problems to begin with." Attendees at the daylong event can attend panels and talks on functional medicine, medical cannabis, and treatments of neurodegenerative diseases. Speakers include cardiologist and internist Lee Cowden, Dr. Zach Bush, a triple board-certified physician who specializes in gut health, and New York chef and "Top Chef" alum Seamus Mullen, author of "Real Food Heals."The objective of the day, said Drescher, is to allow people to think about illness differently.
"A lot of Western medicine is about muzzling the problem, taking the drugs, and keep doing what you're doing," she said. "More people are starting to acknowledge that that's not the answer and that they have to look at the whole body, at certain diets and supplemental protocols, instead of just at the illness."
Info: Master Class Health Summit, 9 a.m. to 5 p.m. Oct. 23, Dorothy Chandler Pavilion, 135 N. Grand Ave. Tickets start at $300. cancerschmancer.org