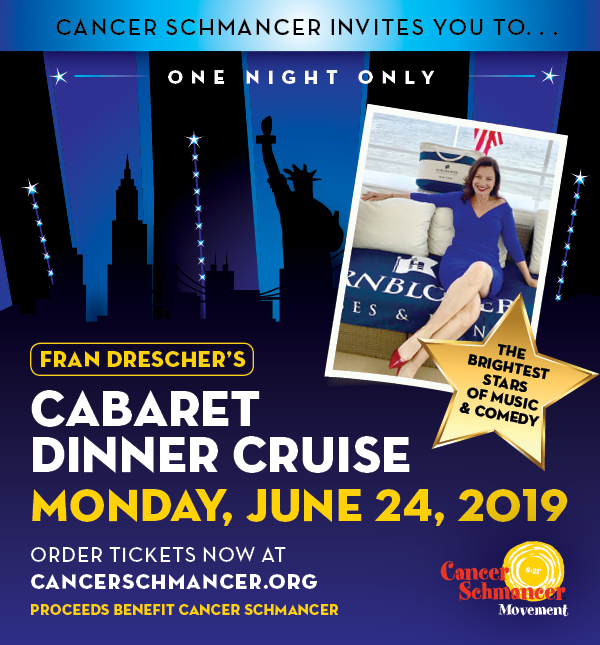 Invitation Courtesy of Betsy Low Design
The glittering New York City skyline is the backdrop for an enchanted evening with Fran Drescher. Sail away for an exclusive, all-VIP experience with cocktails, hors d'oeuvres, and an intimate, gourmet dinner with Fran and some of her dearest friends, followed by a night of music & comedy performances by Broadway and Hollywood's brightest stars. All aboard the luxurious Hornblower Infinity, one of the city's premiere concert venues.
Check Out Our Lineup of the Brightest Stars
of Music & Comedy
A Heartfelt Thank You to Our Production Team
Order Your Tickets
Your purchase is tax-deductible. Cancer Schmancer is a 501(c)(3) nonprofit organization.
Tax ID #26-0489038.
MONDAY, JUNE 24, 2019
SCHEDULE
5:00 p.m. – Check In
5:30 p.m. – Boarding, Red Carpet, Pictures with Fran, Cocktails & Hors D'Oeuvres
6:30 p.m. – Cruise New York Harbor
7:30 p.m. – Return to Dock, Dinner Served
8:00 p.m. – Show Begins
9:30 p.m. – Disembark
Check out highlights from past years:
All credit and debit cards and PayPal accepted. Children under 18 must be accompanied by an adult.
NOTE** This event will be filmed. Your attendance indicates your consent for Cancer Schmancer to use your likeness in its materials.