EXCLUSIVE: Fran Drescher shares tips for how to detox your life to reduce the risk of cancer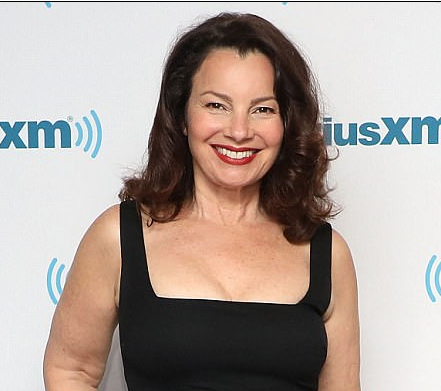 EXCLUSIVE: Ditch your microwave, shut off WiFi while sleeping, and ONLY eat organic: Fran Drescher shares tips for how to detox your life to reduce the risk of cancer - as she celebrates 18 years of being free from the disease
The 60-year-old actress is celebrating 18 years of being cancer-free today
Since her diagnosis, she has made it her mission to educate people about cancer prevention and early diagnosis
Speaking to Daily Mail Online, she shared her tips for detoxifying your diet and your home
She advised not using cordless phones or aluminum foil and paying attention to the products you use
It took Fran two years to get a diagnosis of ovarian cancer, and she wants other people to educate themselves on early symptoms of disease
Fran Drescher is celebrating the eighteenth anniversary of being cancer free today — and she is going to great lengths to keep it that way.
Since discovering she had uterine cancer and going into remission, the 60-year-old actress had made it her mission to educate people about cancer prevention, early signs, and treatment, and even wrote the New York Times bestselling book Cancer Schmancer in 2002.
Speaking to Daily Mail Online, she shared some of the drastic lifestyle changes she has made, which she encourages other people to take up — like getting rid of aluminum cookware and not using antiperspirant — and says that by following these steps, 'slowly but surely you are successfully reducing your risk of getting disease.'
Such joie de vivre! Fran Drescher talked to Daily Mail Online about the importance of removing toxins from your diet and home in order to reduce one's risk of getting disease
Wellness: The 60-year-old actress celebrated 18 years of being cancer-free on Thursday
Fran has spent nearly two decades speaking out about cancer prevention and education, founding the Cancer Schmancer movement and advising other people to be smart about decreasing their chances of getting sick.
'What we say at Cancer Schmancer is: Take control of your body. Transform from being a patent to a medical consumer. Understand that how you live equals how you feel,' she said.
Addressing the first part, she went on: 'You are what you eat. So we have to steer clear of industrial farmed foods, which are laden with all different kinds of chemicals and nothing is grown pristinely.'
If you eat a strawberry that isn't organic you might as well be eating a sponge soaked in pesticide
Fran eats an almost entirely organic diet, explaining plainly: 'If you eat a strawberry that isn't organic you might as well be eating a sponge soaked in pesticide.'
It's not just food, either. The star avoids putting just about anything in or on her body that can be considered toxic.
'If toothpaste says do not swallow, then do not use. Toothpaste should be the equivalent of food,' she advises. 'Do not use antiperspirant. The act of perspiring in the human body is a way to detox. Use deodorant, not antiperspirant.'
She's not the first person to warn against antiperspirants, which use aluminum-based compounds to stop sweat. Gwyneth Paltrow's website Goop has published whole guides on non-toxic deodorants — but scientific studies have had inclusive results on whether antiperspirants actually lead to cancer.
Cancer.org says that there is no clear link between antiperspirants and breast cancer, while Cancer.gov says more research would be needed to determine whether a relationship exists.
For the cause: Her 2002 book, Cncer Schmancer, was a New York Times bestseller, and she has made it her mission to educate people about prevention and early diagnosis
For Fran, it's about eliminating any possible risk — so she also encourages people to detox their homes.
'Stop using aluminium foil, aluminium pans, stop using your microwave, cordless phones,' she said. 'Shut your WiFi off when you go to sleep.
'Let your brain regenerate without the interference of electromagnetic fields.'
Research on weather radiation from wireless phones and WiFi is still inconclusive. According to Time, the World Health Organization and the International Agency for Research on Cancer have labeled cell phones as a 'possible carcinogen,' which means more research is needed to know if they can cause cancer.
Unfortunately, there are lots of bad-for-you products on the market that need to be avoided — but Fran feels confident companies would stop selling them if consumers would send them a message.
'We need to exercise mindful consumerism, because all roads lead to Rome, and Rome is the systemic malignancy of greed,' she said. 'So you have to hit them where they live. If everyone stopped buying colas today, they'd stop making it.'
Be mindful! Fran advises turning off WiFi at night, not using cordless phones, ditching aluminum foil and antiperspirant, and just generally paying attention to the products you use
Flashback: It took Fran two years and eight doctors to get a proper diagnosis of uterine cancer (pictured in 1999)
She added that people 'can awaken to this injustice, to this megalomaniacal greed to the point of sociopathy. And you start using your purchasing power to not only detox your home, to make your vote and your protest with where you put your dollars, but also to dictate more responsible manufacturing trends. Because as they get richer, our health gets poorer.'
Prevention is just one part of staying healthy. The star also tackled what to do when you start feeling ill — and that's trust your gut and do your research.
'We need to know what the early warning whispers are of the cancer that might affect us, and know the tests that are available,' she said.
Fran herself waited two years to get a proper diagnosis of uterine cancer, and had to see eight different doctors before one finally ran the proper tests.
'Because most women with uterine cancer are post-menopausal or obese, and I was neither, they decided I must be perimenopausal, and they didn't give me the simple in-office biopsy that would have told them it was cancer.'
Perimenopause is the transitional period before a woman goes through menopause, which usually starts in her 40s but can start as early as her 30s. The body produces less estrogen, which can lead to symptoms similar to those of menopause.
'For two years, the doctors kept trying different things to help me with my symptoms and said it was perimenopause. The last doctor even gave me hormone replacement therapy that had estrogen in it, which is like poison if you have uterine cancer — and that's when it all started to unfold with greater clarity.'
Luckily, her cancer was still Stage I when it was caught, and by June 21, 2000 she was officially in remission.
Hit show: Fran created and starred in The Nanny from 1993 to 1999
'I was lucky because my cancer happened to be slow-growing. But ovarian cancer is often misdiagnosed as IBS. They say it's a silent killer but it's not, there are always whispers,' she said.
Tickets on sale now! On Monday, she'll be hosting a cruise that will raise money for Cancer Schmancer, which is dedicated to early detection, prevention, and policy change
'I think that doctors in general are bludgeoned by Big Business health insurance to go the least expensive route of diagnostic testing.
'So they tend to subscribe to the philosophy that if you hear hooves galloping, don't look for a zebra, it's probably a horse. And therein lies the rub of why people often get most diagnosed, because at cancer's earliest stage, it often mimics a far more benign problem.'
She wants people to know that though certain symptoms may mean something benign, they could also be an early sign of something more serious — so if being treated for the less-serious illness shows no results, it's worth seeking out more information.
Fran's continuing her work educating and helping people through Cancer Schmancer quite a bit in the coming days.
This weekend, she'll be at the NBC 4 New York and Telemundo 47 Health and Fitness Expo in New Jersey, and on Monday the actress is hosting the Cancer Schmancer Cabaret Dinner Cruise in New York City
The cruise will include cocktails, food, and performances by stars of Hollywood and Broadway, including Andrea McArdle, Ann Hampton Callaway (who wrote and sang the theme song for The Nanny), Spencer Day, Stephanie Gibson, Ilene Graff, Kim Gravel, Peter Marc Jacobson (Fran's ex-husband), Will & Anthony Nunziata, Christiani Pitts, and Randy Roberts.
Fran will also speak and tell jokes, and proceeds from tickets (which are on sale now) will benefit Cancer Schmancer, which is dedicated to early detection, prevention, and policy change.