Stuffed Tomatoes with Garlic, cous-cous and Pesto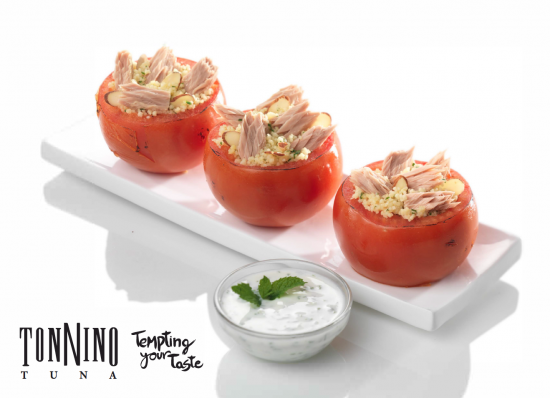 6 - 8 Servings (198 Calories per serving)
Ingredients
8 tomatoes
¾ cups of couscous
1 jar of Tonnino with garlic drained
3 tablespoons of Pesto
2 tablespoons of roasted flakes almonds
Pinch of Salt and freshly ground pepper
Olive Oil Spray
Sauce
1 cup of Natural Yogurt
1 tablespoon of fresh lemon juice
1 teaspoon of chopped garlic 2 tablespoons of chopped fresh mint
Preparation
Cut a thin slice from the top of each tomato.
Using a teaspoon remove the flesh and juice. Discard the flesh, place the juice and seeds in a measuring jug. Place tomato shells in a baking dish.
Add enough water to make up ¾ cups of tomato liquid.
Place the couscous in a bowl. Add the tomato mixture and combine. Set aside for 10 minutes. Fluff the couscous with a fork. Stir in the Tonnino with garlic, almonds, pesto, salt and freshly ground pepper. Preheat oven to 200°C. Fill shells with couscous. Replace tops on each tomato. Spray gently with olive oil.
Bake for 15 minutes.
Mix the yogurt, lemon juice, garlic and mint. Serve tomatoes with the natural yogurt sauce.