Become a Trustee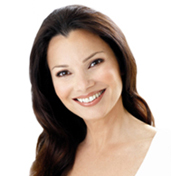 Dear Friend & Supporter,
Thank you in advance for considering supporting the Cancer Schmancer Movement. I believe that I got famous, I got cancer and I lived, to talk about it. So I'm talking! What began as a personal battle with cancer was followed with a NY Times bestseller, "Cancer Schmancer," and has now mushroomed into my life's mission with the Cancer Schmancer Movement.
It occurred to me that although there was great emphasis put on finding a cure for cancer, there was almost none on identifying what's causing the cancer in the first place or why everyone with cancer isn't diagnosed in Stage 1 (when it's most curable) in the second place. These are the questions CSM asks and why we hold a unique place in the health space.
CSM is a 3-prong organization with activated programs.
1-Prevention:
Detox Your Home Program
Education to reduce our risk of cancer through lifestyle change
2-Early Detection:
Fran Vans Program
Free Mobile Mammography in under served communities
3-Policy Changes:
Bi-Partisan Carcinogen Free Label Initiative
Will enable consumers to easily make healthier choices
In, On & Around Us
Close to 90% of cancer is related to environmental influences. And with 1 in 2 men and 1 in 3 women expected to get cancer in their lifetime, the jig is up!
This year at Cancer Schmancer, our BIG cancer prevention roll out is
Detox Your Home.
As it turns out, the home is the most toxic place we spend the most time in but also have the most control over! American families are not powerless in the fight against cancer!
Detox Your Home is the game changer! It's a necessary compliment to all the many wonderful efforts and advancements being made in the scientific, medical and pharmaceutical communities.
Let's raise awareness and educate the public on how to make healthier lifestyle choices while shopping, so that families can effectively help reduce their risk of cancer. But also, consumers will be sending the message to manufacturers, that today's purchasing trends are moving towards foods, personal care items, cleaning & gardening products that are toxic free!
We stand on the precipice of a new dawn! So let's shift our nation's sick paradigm towards a healthier, cancer free one by supporting the Cancer Schmancer Movement.
I hope I've piqued your interest in becoming a CSM Trustee Roundtable Member. Please lock elbows with me and together we can change the world!
Once you wake up and smell the coffee, it's hard to go back to sleep; so let me sound the alarm!
Thank you for your consideration.
Warmest

Fran Drescher
*Cancer Schmancer Movement- Founder, President
*US State Dept. Public Diplomacy Envoy-Women's Health Issues
*Author- NY Times Best Sellers: Enter Whining, Cancer Schmancer
*Creator, Executive Producer, Writer, Star-The Nanny, Happily Divorced
Cancer Schmancer Movement Trustee Roundtable Member
The Trustees
Like-minded philanthropists who believe in the Cancer Schmancer mission and agree to become part of the fund-raising engine in support of CSM goals. The Trustee advocates on behalf of the organization's mission & programs. Trustees network within their circles to bring new Trustees into the Roundtable.
Trustee Commitment
The Trustee makes a $25,000 tax-deductible donation per year for a four-year term. Initial payment is due at time of commitment. Following payments are due at the beginning of each calendar year over the four-year term.
The Trustee is encouraged to host an intimate gathering for fellow & potential Trustees.
The Trustee is encouraged to identify potential donors within their personal and professional networks.
The Trustee advocates whenever possible the mission of the Cancer Schmancer Movement.
Trustee Benefits
The Trustee becomes part of an historic effort and a vision greater than the sum of its parts. CSM is a revolutionary movement challenging the way we think about cancer. Let's not get cancer in the first place.
How's that for a cure?
The Trustee becomes part of a networking community of positive thinking fellow philanthropists from both Business & the Arts, who share in common the desire for a healthier, more cancer free America.
About Us
The Cancer Schmancer Movement is a three-prong organization dedicated to:
Early Detection Catch it on arrival 90% survival! Stage 1 is the Cure! We educate & transform patients into medical consumers.
Fran Vans Program offers low income, un-insured & under-insured women free mammograms.
Prevention Close to 90% of cancer is related to the environment.
The Detox Your Home Program educates consumers & families on how to live healthier lifestyles with the
"Detox Your Home" campaign.
"Detox Your Home" Parties & Video
We the Future kids outreach
Celebrity "Detox Your Home" PSA's
University Lecture Tour
Policy Change "All roads lead to Rome" and in today's world, Rome is Capitol Hill.
Carcinogen-FREE Label ACT is a bi-partisan bill introduced in 2012 for a Carcinogen-Free label so consumers can make healthier choices and through purchasing power, dictate trends that influence formulations.
Gynecologic Cancer Education & Awareness Act was passed by unanimous consent in 2007- the first of its kind in US history!
Washingtonian Magazine named Fran one of the Top 5 Celebrity Lobbyists.

** We are proud to say CSM is a "lean, mean, fighting machine" that is extremely transparent. Our CFO is happy to provide you with CSM financials upon request.
For more information contact info@CancerSchmancer.org