Who We Are
Our Staff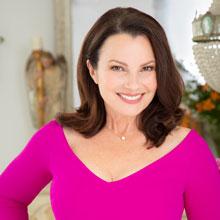 Fran Drescher
Founder and Visionary
A 20+ year cancer survivor, Fran Drescher has a reputation for passion and commitment.
She is Founder and Visionary of the Cancer Schmancer Movement; dedicated to educating, motivating, and activating patients into medical consumers by connecting lifestyle to disease with her Master Class Health Summit and teen-targeted education video, Be The Change, starring Jamie Foxx.
Fran received two Emmy and two Golden Globe nominations for her portrayal as the lovable "Miss Fine" on CBS's hit series, The Nanny, which she both created and executive produced. She also created, executive produced and starred in the groundbreaking TV Land sitcom, Happily Divorced, which was inspired by her real-life relationship with her gay ex-husband, Peter Marc Jacobson. Fran recently starred in the new NBC sitcom, Indebted, about a Baby Boomer couple who go broke and have to move in with their adult son and his young family. She has worked with many great directors in films such as Rob Reiner's This is Spinal Tap, to which Fran won Esquire Magazine's One Minute Oscar, Milos Forman's Rag Time, and Francis Ford Coppola's Jack. She also starred in Beautician and the Beast opposite Timothy Dalton. Her famous voice is currently featured in the top-grossing SONY animated feature franchise film, Hotel Transylvania: In her role as Eunice, the wife of Frank Stein. In 2019, Fran starred in two indie films, The Creatress and After Class. She is currently serving her second term as president of SAG-AFTRA.
An accomplished author, Fran received the prestigious NCCS writer's award for Cancer Schmancer, which, along with Enter Whining, were New York Times Best Sellers. She also penned the celebrated children's book, Being Wendy. Furthermore, Fran made her Broadway debut as "Madame" in Rodgers + Hammerstein's Tony-Award winning, Cinderella.
Fran has won countless awards for her leadership in the health space, including the John Wayne Institute Woman of Achievement Award, the Gilda Award, City of Hope Woman of the Year Award, The Albert Einstein Medical School Lifetime Achievement Award, Queens College Lifetime Achievement Award, and the Citizen Artist Award.
---
Susan Holland
Executive Director
Susan joined the Cancer Schmancer team in July 2008 as a Special Events Coordinator. She volunteered with the organization at its inception due to losing her father and many friends to Cancer. She shifted from events and marketing into her present position as Executive Director. She is a health advocate in her own right and has a passion for developing relationships and connecting people through moments that entertain and make a difference in health across the board. Before joining Cancer Schmancer, Susan Executive Produced a travel series with her former husband. She holds a degree in Fashion Merchandising & Business and specializes in fashion buying, media sales, public relations and event production. She is a proud mother of two daughters and is a dedicated martial artist and spin cyclist.
---
Al Sophianpoulos
Program Director
Al has a strong dedication to overseeing projects and fundraising events for non-profit organizations. He is an accomplished producer whose background includes film, television, radio and live entertainment. He holds an MFA in screenwriting from the University of Southern California.

He lives in Barnesville, Georgia, with his husband Jeff and golden retrievers Chip, Daisy, and Bubba.
---
Jennifer Ann Walsh
Web/Marketing Consultant
Jennifer Ann Walsh hails from the Pacific Northwest. Currently she lives in Portland, Oregon and runs a one-woman design studio specializing in websites for forward thinking entrepreneurs and mission based organizations. She likes wild food and raw adventures. When she's not helping people on a mission craft their online presence, you can find her noodling around with music, plants and words.
---
Board of Directors
Fran Drescher, President
Uh-Oh Productions
Reid Drescher, Treasurer
Spencer Clarke LLC
Elizabeth Munson, Secretary
Rockefeller Trust Company
Lori Levine
Flying Televison
Founding Members
Ami Aronson
Roberta Ashkin
John Paul and Eloise DeJoria
Itchko Ezratti
Erika Glazer
John and Susan Hess
Sherry Lansing
Twyla Littleton-Shabtai
Rosie O'Donnell
Rick and Vicki Wuest
Martin and Barbara Zweig
---
Advisory Boards
Medical, Health & Wellness Advisory Board
Dr. Dale Bredesen, MPI Cognition
Dr. Zachary Bush, Board Certified Endocrinology & Metabolism, Internal Medicine, Hospice & Palliative Care
Dr. Hyla Cass, Integrative Medicine, Addiction, Psychiatry
Dr. Aly Cohen, MD, FACR, FABoIM, Founder & Medical Director, The Smart Human, LLC
Margaret I. Cuomo, M.D., Board certified radiologist, Author of A World Without Cancer
Dr. Gerry Curatola, Rejuvenation Dentistry
Dr. Veronique Desaulniers, BreastCancerConqueror.com
Dr. Uma V.A. Dhanabalan, MD, MPH, FAAFP, Family Medicine and Occupational & Environmental Medicine, and Fellow, American Academy of Family Physicians
Russell Feingold, Heart Wisdom
Dr. Patrick Gentempo, PatrickGentempo.com
Dr. Beth Karlan, Director, Women's Cancer Research Institute at Cedars-Sinai Outpatient Cancer Center
Dr. Scott Lyons, The Embody Lab
Marianne Morano, M.S., ACSM, CWC – CEO, FitorWHAT, Inc.
Dr. Tom O'Bryan, The Gluten Summit
Robyn Openshaw, Founder, GreenSmoothieGirl.com
Dr. Cary Presant, Hematologist & Oncologist - Wilshire Oncology Medical Group
Dr. Elizabeth Poynor, Gynecologic Oncologist
Dr. Antonio Jimenez, Hope4Cancer.com
Dr. Pam Taub, Dir. Step Family Foundation Cardiovascular Rehabilitation and Wellnes Center, UC San Diego Health System
Chris Wark, ChrisBeatCancer.com
Nutrition Advisory Board
Dr. Nalini Chilkov, Founder of IntegrativeCancerAnswers.com
Elissa Goodman, Holistic Nutritionist & Lifestyle Cleanse Expert
Lilly Padilla, Holistic Health
Environmental Advisory Board
Joseph P. Reiss, Chairman
Ken Cook, Environmental Working Group
Advocacy Advisory Board
Ken Cook, Environmental Working Group
Patricia Russo, Women's Health Research at Yale University
Media Partners
Wayne Gmitter, Think Iconic Artists Agency
Tim Horton Photos
Neat Edit
Roxanne Lowit Photography, in memoriam
Max Silver
Corine Solberg
Susan Vizvary Photography
Financial & Legal Advisory Board
Graham M. Colman, Davis, Wright, Tremaine LLP
Charles H. Nave P.C.
Vault Consulting
Marketing/PR Advisory Board
Linda Roth, Linda Roth & Associates
Janet Donovan, Washington Life Magazine
JoAnn Geffen, JAG Public Relations
Lori Levine, Flying Television
Fran McMahon, The Hill
Debbie Sansevero, Desan Productions
Philanthropic Advisory Board
Ami Aronson
Pennie Abramson
Beth Dozoretz
Web/Graphic Design Advisory Board
Betsy Low, Betsy Low Design
Jennifer Ann Walsh, Jennifer Ann Walsh Designs
Sponsors & Supporters
Where would we be without our angels?
Golden Circle Donors
Gary and Pennie Abramson
Dan and Donna Aykroyd
Ann Hampton Callaway
JP's Peace, Love, and Happiness Foundation
Roy and Barbara March
Matisse Footwear
Elaine and Allan Rich, in memoriam
Jay Rosenberg
The Rudin Family Foundation
Tom and Susan Santefort
Prudence and Robert Sternin
Round Table Members
The Annenberg Foundation
Lauran Bromley
Brett & Rebecca Kelly
Jennifer and Brad Levin
Mary Ellen Moschetti
Evan Sacks