Newsletter: May 2009
With Mother's Day just around the corner, have you given some thought to how to honor your mother? How about offering her the gift of life?
That's right. Too many women lose their lives due to late stage diagnosis of cancer, but it doesn't have to be that way. My mom and I were both lucky enough to get diagnosed early with uterine cancer and we now celebrate each other every day of our lives. Let's ensure that all the women we love continue to live long and healthy lives.
Pick up a free copy of the Cancer Schmancer DVD, entitled Stage 1 is the Cure!, at your local Hess Express location between May 8-22 while supplies last.
If you don't have access to a local Hess Express location, please visit our online store to purchase a Cancer Schmancer DVD.
---
What is Your Self-Worth? A Woman's Guide to Validation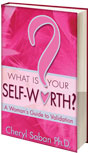 Our dear friend and supporter, Dr. Cheryl Saban, also a psychologist, author, philanthropist and women/children's advocate, has made it her mission to empower women to take control of their lives and happiness. Her new book entitled What is Your Self-Worth? A Woman's Guide to Validation serves as a thought-provoking how-to guide with advice and personal insights from everyday women and world figures, including yours truly, on how women can own their self-worth. It's also a "call to action" at the grassroots level, challenging readers to champion the roles of women everywhere by starting with themselves. Best of all, all of the proceeds from book sales will go to women's philanthropic programs (including Cancer Schmancer!), so pick up a copy of this powerful book today.