Paul Mitchell Schools Say Cancer Schmancer!
Annual Campaign Raises More Than $939,000 for Charity
(BEVERLY HILLS, Calif. – May 15, 2009) – For the sixth consecutive year, amidst a belttightening recession, Paul Mitchell Schools spent the months of February, March, and April raising money for their annual Magic of Memories campaign. Future Professionals and Learning Leaders from the nationwide network held a variety of fundraising events for seven selected charities, raising a total of $939,906.
The annual fundraiser culminated in a gala dinner event at the Island Hotel in Newport Beach, California, on April 25, 2009. The celebration was hosted by celebrities and representatives from the chosen organizations: radio and TV personality Leeza Gibbons, Paul Mitchell CEO/Cofounder John Paul DeJoria, Paul Mitchell Co-owner Angus Mitchell, actress and cancer prevention crusader Fran Drescher, and CNN's Larry King and wife/chairperson Shawn King of the Larry King Cardiac Foundation.
A packed audience cheered as the top ten Paul Mitchell fundraising schools were announced by Paul Mitchell Schools Dean and Cofounder Winn Claybaugh, along with DeJoria, Mitchell, and the celebrity hosts. Paul Mitchell The School – Salt Lake City took first place with a total of $76,962 raised. This year's total of $939,906 surpassed all previous records and brought the six year total to nearly $3.4 million. The funds will be distributed to the Andrew Gomez Dream Foundation, the Leeza Gibbons Memory Foundation, the Larry King Cardiac Foundation, Cancer Schmancer, the Pancreatic Cancer Action Network, Food 4 Africa, and City of Hope.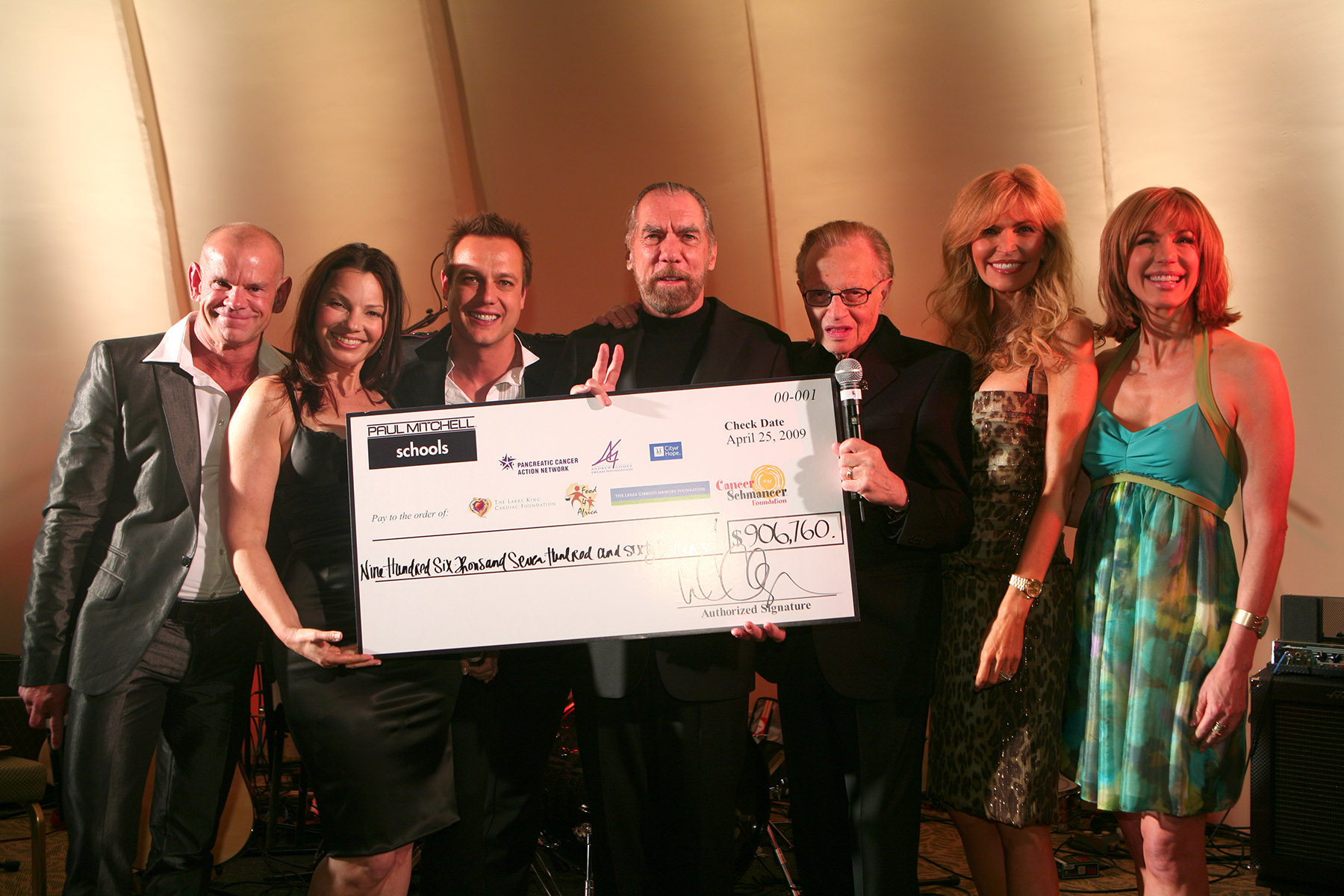 One of the evening's highlights included a remembrance by Angus Mitchell and John Paul DeJoria of JPMS Cofounder Paul Mitchell, who died 20 years ago of pancreatic cancer. "It nearly brings me to tears just knowing how much effort was put into raising money to make a difference," Angus Mitchell said. "Helping to put an end to pancreatic cancer means even more this year with it being 20 years of my father's memorial. The gift in life is how much time we have and the value is what we do with it. At the Magic of Memories dinner, it was really inspiring to be among people who are heartfelt in the foundations they support or created."
Leeza Gibbons, who has been involved with the campaign since its inception, told the Paul Mitchell Schools, "All of us at the Leeza Gibbons Memory Foundation count ourselves blessed and abundantly rich because we are part of your family. The funds you have raised, five and ten dollars at a time, have built ten Leeza's Place locations across the country. Each time a caregiver opens our door to get help, each time a wife finds a safe place to cry for her husband, each time a daughter discovers a resource to help her mom and save her own sanity, it is because of you. Big-time gratitude to each 'ambassador of change' in the Paul Mitchell family who proved that we are not in a recession of the soul!"
Larry King, who attended the Magic of Memories dinner with his wife Shawn and son Larry King, Jr., added, "I am so proud to have the Larry King Cardiac Foundation associated with the incredible efforts made by the future professionals at the Paul Mitchell Schools. Their enthusiasm and true passion to help others comes through not only in the work they do on a daily basis but also in their efforts to help others. We were truly humbled by all we saw that evening and we also had a blast entertaining the crowd. It was a night I will never forget!"
Rather than seeking huge corporate donations, Paul Mitchell Future Professionals raised the majority of the money through a variety of grassroots fundraising events such as cut-a-thons, fashion shows, bake sales and raffles, with individual donations averaging $5 to $10.
Fran Drescher said, "As a hairdresser myself, I can safely say that the Future Professionals at the Paul Mitchell Schools went above and beyond the call of duty. In the midst of a major recession, these fine women and men banded together and raised an enormous amount of money for charities, including my own Cancer Schmancer Movement. To top it off, we all got to celebrate our achievements together. If only every company in corporate America could be so philanthropic—while having so much fun—as John Paul Mitchell Systems!"
John Paul DeJoria added, "Participating with our Paul Mitchell Schools' Future Professionals, educators, and partners to change the world helps leave a footprint not only in the world of those we help, but in our own history. "Our Future Professionals are truly exceptional, refusing to go along with the news of a recession and instead following their own hearts for the good of our planet and its living souls."
---
About the Andrew Gomez Dream Foundation
The Andrew Gomez Dream Foundation helps disadvantaged or hard-hit cosmetologists and cosmetology-related enterprises by providing educational opportunities, disaster relief, and support in the fights against breast cancer, domestic violence, and other destroyers of self - esteem. www.paulmitchelltheschool.com/pmsp/andrew_gomez/index.cfm
About the Leeza Gibbons Memory Foundation
The Leeza Gibbons Memory Foundation provides vital education, empowerment, and energy programming to an ever growing population of family caregivers and resources for those newly diagnosed with chronic illnesses through its intimate, community-centered Leeza's Place locations. www.LeezasPlace.org
About the Larry King Cardiac Foundation
The Larry King Cardiac Foundation provides funding for lifesaving treatment for individuals who, due to limited means or no insurance, would otherwise be unable to receive the treatment and care they so desperately need. www.lkcf.org
About Food 4 Africa
Food 4 Africa strives to supply at least one vitamin- and mineral-enriched meal each day to the children of South Africa, where more than a million preschool children do not receive sufficient food. www.food4africa.org
About the Pancreatic Cancer Action Network (PanCAN)
The Pancreatic Cancer Action Network is a nationwide network of people dedicated to working together to advance research, support patients, and create hope for those afflicted by pancreatic cancer. PanCAN raises money for direct private funding of research and advocates for more aggressive federal research funding of medical breakthroughs in prevention, diagnosis, and treatment. www.pancan.org
About Cancer Schmancer
Cancer Schmancer's mission is to ensure that all women's cancers are diagnosed in Stage 1, when they are most curable. Early detection equals survival as well as education, legislation, and social reform. www.cancerschmancer.org
About City of Hope
City of Hope is an independent biomedical research, treatment, and education center dedicated to preventing and curing cancer and other life-threatening diseases. It is one of only 40 National Cancer Institute–designated Comprehensive Cancer Centers nationwide and a founding member of the National Comprehensive Cancer Network. www.cityofhope.org
About Paul Mitchell Schools
At Paul Mitchell Schools, the teaching style is unique. They believe that education is an adventure and that the learning experience needs to be fun. When visitors tour a Paul Mitchell School, they notice something different—a positive learning environment everywhere they look. The culture within every Paul Mitchell School campus inspires confidence and success. Each school is a learning community that provides Future Professionals with the opportunities to develop essential skills while exploring their talents, passion, and creativity. Paul Mitchell School instructors—called "learning leaders"—are trained to draw out the artist in every student and prepare them to compete in the real world. Rather than concentrate only on the basic training needed to pass state licensing board exams, Paul Mitchell Schools provide a well-rounded lifestyle education. Their experienced staff members are specially trained to help Future Professionals explore all of their creative and professional possibilities.
Established over 29 years ago, the Paul Mitchell network is nearly 100,000 salons strong and in 81 countries worldwide. Every professional hairdresser knows the Paul Mitchell name. Prospective employers recognize Paul Mitchell Schools' commitment to quality and their reputation for innovation and excellence.