Fran Drescher Celebrates Book Release, Speaks Out About Health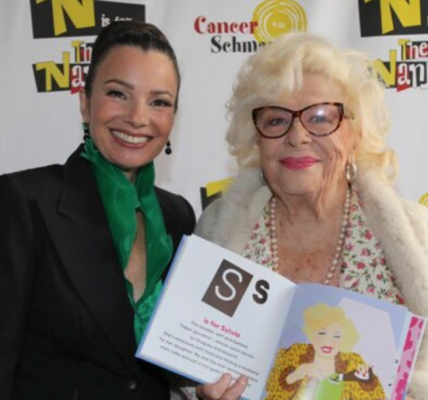 Almost 30 years after her classic series debuted, Fran Drescher is celebrating a new project related to "The Nanny" — and speaking out about women's health.
"N Is for the Nanny" is a new book from longtime fan Rebecca Kelly that revisits all the show's characters in a witty, A-to-Z format featuring colorful illustrations by Gary Chestney.
On Thursday, Drescher, who contributes a foreword to the special limited release, told attendees at an intimate book launch at the Columbus Circle restaurant Robert in NYC that all proceeds from the publication will benefit her nonprofit Cancer Schmancer Movement, a cause close to her heart: she overcame uterine cancer in 2000.
"We're all about pivoting Americans' health from trying to cure an end-symptom to asking ourselves, 'Why do we get sick in the first place?'" she said about Cancer Schmancer. "Let's not get cancer at all — how's that for a cure?"
Looking elegant in a black suit over an emerald-green chiffon blouse, the 64-year-old star then opened the floor to questions. When her ex-husband and creative partner Peter Marc Jacobson playfully asked, "Is that your real voice?" Fran replied, "Who could make this up?!"
Getting serious, Drescher — recently elected president of SAG-AFTRA — noted that she wasn't waiting for politicians to help combat cancer, saying, "We, as Americans, have to get out of the chemical industry, and we have to dial everything back to a much... simpler time, when ingredients were basically stuff that might've grown in your grandma's garden. I think that Americans, for the most part, are trapped in a revolving door of toxic exposure, chronic illness, and drug dependency."