Fran Drescher on Her New Lifetime Holiday Movie and Sunny Malibu Home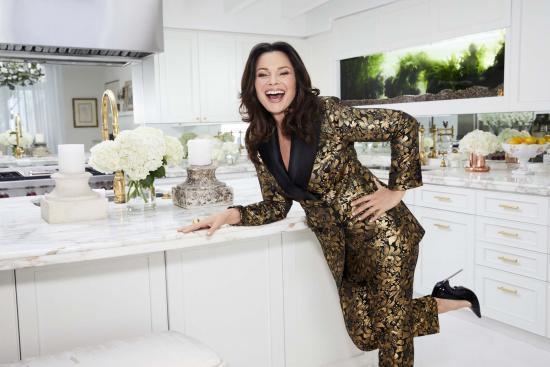 Fran Drescher, wrapped in a white bathrobe, pauses during our Alexa interview to save a bee that's bumbled indoors. It's overcast in Malibu, but there are bees aplenty in "The Nanny" actress's terrace garden.
"I'm kind of an earth mother," she says. A Zen music mix is piped through her all-white, art and memorabilia filled oceanfront home. Even Drescher's famous Flushing rasp is smoothed to a purr. Since defeating uterine cancer two decades ago, the California coast has become her blissed-out sanctuary and a refuge for the insects and other wildlife who happen to find her. She scatters bowls of water and morsels of food outside for the ants, bees and bird
"All living things need water," explains Drescher, 63, a practicing Buddhist (or in her words, "Bu-Jew"). "I live amongst nature, not in spite of it. These four walls are an illusion. They protect us from weather, not wildlife."
After creating one of TV's most beloved characters — Queens fashion icon Fran Fine on "The Nanny," a through-the-looking-glass satire of her own over-the-top personality — Drescher has spent decades using her one of a kind voice to promote education, love and wellness.
Her latest role is in Lifetime's "The Christmas Setup" (premiering Dec. 12), which is the network's first holiday rom-com with an LGBTQ primary storyline. She's also co-writing a Broadway adaptation of "The Nanny," a project that remains in development despite coronavirus shutdowns.
But her biggest splash this season may be on social media, where she's using her platform to criticize consumerism, capitalism and America's big-business health-care system — a subject she also explored on this year's NBC comedy "Indebted."
Drescher has become an unlikely role model for a new generation. Her outrageous leopard-print looks on "The Nanny" (which took three hours each week to plan) are today's Insta inspo and beloved by celebs like Cardi B. Her empathetic, "Bernie-curious" politics — advocating for American manufacturing, a national health-care system and a robust social safety net — stand out from the more mainstream liberalism of Hollywood.
Her love life, too, remains thoroughly modern. She married her high school sweetheart, Peter Marc Jacobson, in 1978, and the pair co-created "The Nanny." They divorced in 1999 (he later came out as gay), but remain close friends, even creating the sitcom "Happily Divorced" together. Drescher, now proudly single and empowered, says she enjoys the company of "a friend with benefits."