Fran Drescher, Newly Elected President of SAG-AFTRA, Is Thinking Big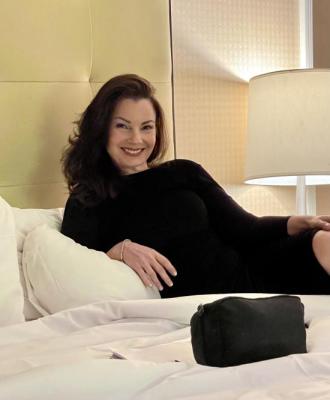 Some actors so indelibly meld with a single character that even decades later it's hard to separate them. The name Fran Drescher instantly triggers visions of Fran Fine in The Nanny: a fantasia of candy-colored minidresses, a mountain of hair, and an adenoidal laugh that hits somewhere between car alarm and death rattle. In an era when network TV's family comedies skewed generically Waspy, the then 36-year-old actor created a role for herself as a charmingly brash, working-class Jewish girl from Queens who taught her ritzy employer (and the show's millions of viewers) Yiddish words like farkakte and meshugener, not to mention the pleasures of canasta and kreplach.
It's difficult to square The Nanny's 1990s fashion excess with the woman who greets me over Zoom wearing a simple spaghetti strap top and subdued hair, her face stripped clean of makeup and voice soothingly assured. It's Drescher unplugged, and sitting in her family's South Florida home, she sounds like the macher that she is. In the more than two decades since The Nanny ended, Drescher created the nonprofit Cancer Schmancer after a bout with uterine cancer and helped convince Congress to pass the Gynecologic Cancer Education and Awareness Act, which became law in 2007. She has served as a U.S. State Department public diplomacy envoy for health, traveling the world to advocate for women's health and cancer prevention.
So when actor Gabrielle Carteris was looking last year to step down from the presidency of the Screen Actors Guild-American Federation of Television and Radio Artists, Drescher seemed an obvious choice to run. In September 2021—after a bruising race against Matthew Modine, who positioned himself as more of a firebrand—she was elected to head the entertainment and media union. "All of the Zen masters say don't try and swim upstream, just let life come to you," Drescher says, gesticulating gracefully. "When this came to me as an opportunity to run, I really thought, This seems to be an amalgam of many of my strengths and accomplishments coming to a point in this one defining moment."
It's also a pivotal time for SAG-AFTRA, which represents approximately 160,000 performers and media professionals. The streaming wars have ushered in a new level of upheaval, and fellow entertainment industry unions like the International Alliance of Theatrical Stage Employees and the Writers Guild of America recently took dramatic action to ensure its rank and file wouldn't lose ground in this swiftly shifting Hollywood. Last year IATSE members voted to authorize union leadership to call a nationwide strike if the Alliance of Motion Picture and Television Producers didn't offer them better terms (they later reached a deal). WGA members boycotted top talent agencies until they signed an agreement making writers' interests a priority.
"[Streaming] has been a Wild West, and now we've got to put the saddle and the reins on and set up ground rules," Drescher says.
SAG-AFTRA will renegotiate its contract with the Alliance of Motion Picture and Television Producers next year, with Drescher leading the charge. She acknowledges the recent lawsuit (now settled) that Scarlett Johansson filed against Disney in which the superstar alleged she was shortchanged by the company's decision to release Black Widow on its streaming platform at the same time it went to theaters during the pandemic. "If that's [what happens to] Johansson, imagine the 160,000 people that I represent!" Drescher says. "The jig is up, and by 2023, I hope that me and the people that I look to within the union will come up with some very creative ideas for how to restructure in a new way that's equitable for everybody."
Carteris says she encouraged Drescher to pursue the job because of her interest in technology and sustainability, among other things. "[Fran] lives in the real moment and understands that we are in a changing environment in our industry," she says. (Drescher is forming a green council of high-profile performers within SAG-AFTRA, hoping to advocate for eco-friendly policies and band together with other unions to reduce Hollywood's carbon footprint.) "Sometimes people in our industry tend to talk a lot about what they can do," Carteris says, "but Fran really does things."