Fran Drescher, You're So (Fran) Fine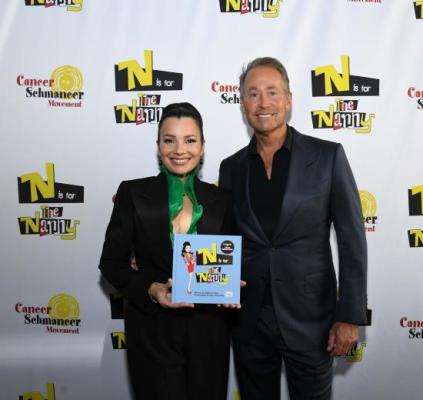 From trans to Fran: I caught up with the delightful Fran Drescher at the Robert restaurant publication bash for N is for The Nanny, a new A-to-Z tome whose entire proceeds go to Fran's nonprofit organization Cancer Schmancer Movement. With all six seasons of The Nanny now available on HBO Max, Fran's droll humor is reaching all new generations who are thrilling to her nasal intonations. This was our conversation:
MM: Hi, Fran. Gays have been a big part of your career.
FD: Yes, I have always had the support of the gay community, but when I became the Nanny, with the costumes and the hair, suddenly they were having viewing parties at gay bars, and drag queens were dressing like me. When my husband [Peter Marc Jacobson] came out as gay, that really put it over.
MM: You were the new Liza Minnelli.
FD: Exactly.
MM: In 2011, you did Happily Divorced, a sitcom based on that experience.
FD: I felt the community was embracing the show in a profound way. The global message of Happily Divorced was that everybody has the right to live their authentic life. The younger generation today is not going to deny their identities.
MM: Except in Florida.
FD: Well, that's politics.
MM: Speaking of knowing your worth: Would you ever want to stretch and play, say, Lady Macbeth?
FD: I enjoy stretching, on the rare occasions when given the opportunity. I love to dive in — and I'd have to harness my dialect and all of that. Emotional truth is not something that's difficult for me to tap into. It should be the same with Shakespeare, Saturday Night Fever or The Nanny. Authentic performances.
MM: Exactly. By the way, you're from Queens, and I'm from Brooklyn. They tried to drum the accent out of me, but I never totally lost it, thank god.
FD: And I learned how to monetize it, thank god!