Fran's fine, turning her pain to purpose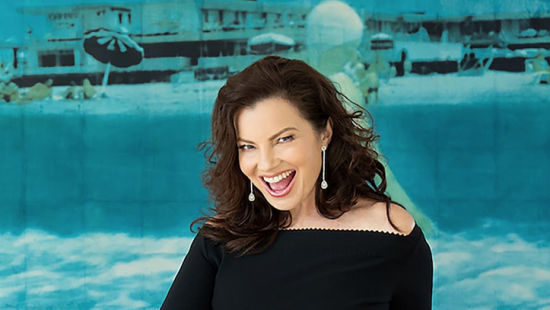 As the star of 90s hit sitcom The Nanny, Fran Drescher created an iconic Jewish role. Now she's putting her energy into fund-raising for her cancer-fighting foundation, she tells Isabelle Kliger
Comedy legend, fashion icon, cancer survivor, and women's and LGBTQ+ rights activist, Fran Drescher is a firm believer in "turning pain into purpose". Today, the ultra-stylish 63-year-old Hollywood star has a hit show on HBO Max, a new Broadway musical in the works, and a non-profit organisation celebrating its twenty-first year of women's health advocacy.
Drescher isn't your run-of-the-mill Hollywood celebrity. Having grown up in Flushing, Queens, she met her ex-husband Peter Marc Jacobson at 15 and married him at 21. After high school, the pair worked as hairdressers while pursuing acting opportunities in New York. Drescher made her screen debut at the age of 20, with a small role in the cult classic "Saturday Night Fever", but did not become a household name until her mid-thirties, in a role she and Jacobson co-wrote, specifically for her.
As the "flashy girl from Flushing", Fran Fine, in the smash-hit sitcom The Nanny, Drescher became a fashion reference and comedy powerhouse, going on to be nominated for two Emmy Awards and two Golden Globe Awards for Best Actress in a Comedy Television Series. She was even honoured by the Israeli Knesset as the first female Jewish actor since Molly Goldberg in The Goldbergs in 1948 to play an openly Jewish character in a starring role on U.S. primetime television.
"I grew up in a loving Jewish family, in a predominantly Jewish neighbourhood and, very early on [Jacobson and I], started observing the nuances of the richly colourful characters that surrounded us," says Drescher, who was inspired by the words of American playwright Neil Simon. "He said, 'you have to write about what you know', and then you can really get into the details."
However, it was only thanks to Drescher and Jacobson's determination and, some might say, chutzpah that The Nanny ended up being the wonderfully sassy, unapologetically Jewish yenta we know and love today.
"We were working on the pilot when the network called to say Procter & Gamble wanted to buy the show outright. There was only one caveat: the character of the nanny had to be Italian, not Jewish," recalls Drescher.
Despite being keenly aware of what having a fully financed show would mean, Drescher and Jacobson decided to do it their way.

"We had to write about what we knew or it would miss the mark. We're not Italian and, if Fran wasn't Jewish, the show wasn't going to be rich in specificity, which is our brand of comedy. So, even though it was a huge opportunity, we said: 'The Nanny must be Jewish!'"
A Cinderella story with a distinctly New York twist, The Nanny tells the story of a former bridal shop saleswoman who gets fired and ditched by her no-good boyfriend, only to land a job as the nanny to the three children of a rather dashing and terribly wealthy British Broadway producer. Needless to say, hilarity ensues. For kids of the 1990s, Fran Fine became an icon; with her trademark nasal New York-Jewish accent, her mini skirts, inimitable sense of style and outlandishly big hair, not to mention the compelling will-they, won't-they dynamic she shared with her on-screen counterpart, the somewhat reserved, stiff-upper-lipped (initially, at least) "Mr. Sheffield" (played by Charles Shaughnessy).
But what really endeared Nanny Fine to TV audiences around the world, was her contagious charm, relentless optimism and the ease with which she navigated the many twists and turns of life. Positivity is a quality Fran Fine shares with her namesake, even though Drescher admits that real life has not always been easy.
In 1985, Drescher and a female friend were the victims of a harrowing attack when they were raped at gunpoint at her Los Angeles home. In June 2000, one year after the final episode of The Nanny aired, she was diagnosed with uterine cancer, following two years of misdiagnoses by eight different doctors. Yet her message is one of empowerment:

"I've survived some really difficult times and learned that, when you turn your pain into purpose, it's very healing and helps make sense out of the senseless. Rather than asking 'why me?', it helps if you think 'this is why me, and I'm going to take it and apply it to the greater good'. Nobody wants bad things to happen but, if you discipline yourself to seek out the opportunity being presented, you can transition more quickly from being a victim to being empowered," she explains.
After the cancer diagnosis, Drescher underwent surgery and was given a clean bill of health. The experience inspired her to write the best-selling book Cancer Schmancer.

"Cancer Schmancer means 'cancer is not the boss of me'," states Drescher.

On the seventh anniversary of her operation, Drescher launched Cancer Schmancer: a non-profit organisation that seeks to ensure that all women's cancers be diagnosed while in Stage 1, the most curable stage. Celebrating her twenty-first year of wellness this month, Drescher is hosting Cancer Schmancer's annual concert on 20 June. FranJam 2021 is a free online event in support of the fight against cancer, with a line-up of performers including the likes of Cyndi Lauper, Tina Arena, Jackson Browne, and Debbie Gibson. All proceeds will go to support the Cancer Schmancer movement.
"We started out with early detection as the cornerstone as the foundation: catch it on arrival, 95% survival", Drescher says. "As individuals, it is up to us to educate ourselves on the early warning whispers of cancer, know the tests that are available, and transform from being a patient to a medical consumer, which also means demanding more from our doctors."

Cancer Schmancer's program also features preventative measures for detoxing the home, which, Drescher says, includes making conscious buying decisions, in order not to bring toxic substances into the home, and transitioning to organic and eco-friendly in everything from the foods we eat, to the personal care and household products we use.