Marie Claire - Famously Fran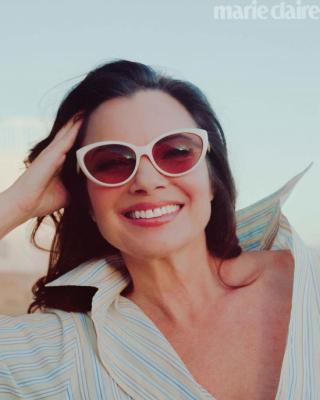 The '90s icon behind The Nanny is as relevant as ever. Just ask her.
Before there was Kim, before there was Paris, before there was Chiara or Charli, there was Fran. Before a generation of celebrities turned being yourself into a brand, Fran Drescher built a career on and perfected the art of being unapologetically herself—fabulous, funny, and born to be famous.
But much like happenstance is crucial to the success of influencers, Drescher's journey to stardom, she explains, has been a product of being in the right place at the right time. The theme song to The Nanny—the '90s sitcom that turned the actress into a household name—may have said it best: "She had style. She had flair. She was there."
Fittingly, that's exactly how she became the co-creator, executive producer, and star of her own prime-time show: She was there, on a flight to London, with Jeff Sagansky, who was then the president of CBS Entertainment. From her Malibu home, the 63-year-old, clad in a white bathrobe and little else, recounts a tale she's told so often, it's practically Hollywood legend. "I ran into the bathroom to put some makeup on," she says. "And I'm saying, 'Carpe diem, carpe diem' as I'm powdering my face, 'cause I knew this was an opportunity of a lifetime. I started talking to him when I came out, basically telling him, 'Have I got a show for you, for me.' He finally said, nine and a half hours later, 'When you get back to L.A., call my office. They'll put you up with comedy development, and you can pitch your idea.' "