Why Mental Health Is At the Center of Our Well-being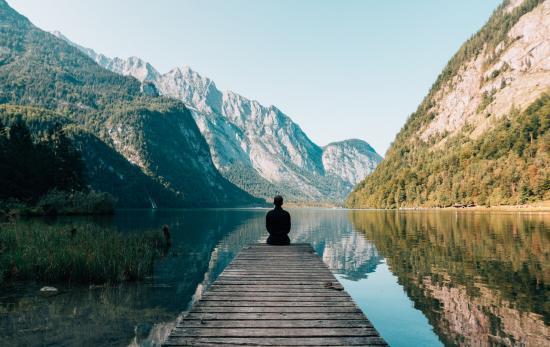 In today's world, everything that we have ever known has changed.
Everything that was, is no more, at least to a certain degree. Our lives are changing, for most, with a lack of feeling in control. Political angst all over the globe is creating a general anxiety that has yet found a place of sanctuary and impermanence of our livelihoods. Our health is a constant trigger of uncertainty felt at the Core of our being.
And yet COVID-19 has bought light to a pre-existing and potent pandemic, as it roars to the surface of our beings and affects our core existence – our mental health. Our mental health is our emotional and psychological well-being in relationship to ourselves, others, and our environment.
A Journey in Self-Awareness
I am an actor, by profession, a longtime student of both Vedanta and Tibetan Buddhism, a Chopra-certified Primordial Sound Meditation teacher, and the co-founder of Never Alone, the mental health initiative of The Chopra Foundation. My 20-year background in Buddhist meditation techniques, along with a deep interest in non-dualism, Vedanta, and Primordial Sound Meditation has led me to my work at the Foundation.
The goal of all of the techniques we teach at the Foundation and Never Alone is freedom from suffering. I realized over the years that my experience of life depends on a very basic element and distinction: my mental hygiene and the pathway to self-awareness.
Freedom From Suffering
May is Mental Health Awareness Month. Prior to the onset of the COVID-19 pandemic, every 40 seconds someone died by suicide. The pandemic has shown a higher rate of usage of suicide hotlines by 300 percent. One cannot ignore that our mental health is at the center of it all. But what if we were to place our attention on the root of our mind? What if we were to free ourselves from ultimate suffering?
Consciousness is at the center of our being. It is the birth of our mind - images, feelings, sensations, and thoughts are born from this space that is not perceived, yet just is.
In a practical distinction, the need to be free of mind pollution, overriding worries, uncertainties of existence, we must experience our true self, our innate awareness. Our potential is infinite as we start nurturing the pathway to self-awareness. And in that sense mental well-being is essential to all aspects of our daily lives, a closer mental hygiene is key for our physical and social wellbeing, our careers and life purposes, our financial, and community relationships.
When one experiences a fertile clear mind, naturally healthy emotions such as joy, empathy, love, and compassion arise, connected to the flow of life and the flow of consciousness. And to the other extreme, anxiety, anger, guilt, humiliation, shame, and depression arises when disconnected from our true self.