Cauliflower Mash and Mushroom Chickpea Gravy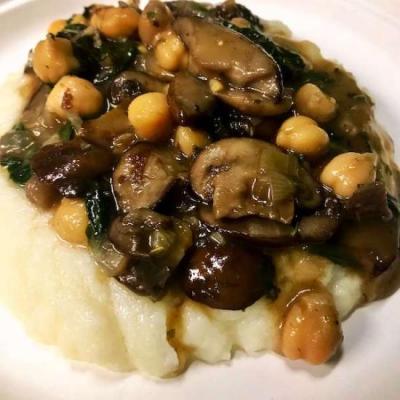 Do you love mashed potatoes? I definitely do!
At times, I want the feeling of eating mashed potatoes, but desire a lightness that is sometimes lacking—enter cauliflower mash. To highlight a couple wonderful elements of cauliflower compared to potatoes, you can't over-mash or over-whip cauliflower the way you can potatoes.
Without potato's starch to contend with, you can purée the cauliflower all day with no risk of gumminess. And then there's the taste: Mashed cauliflower has an earthy, nutty flavor, which means it offers some complexity to the final dish. The cauliflower mash is so light and fluffy, and the mushroom chickpea gravy is the hearty, flavorful component that melds it all together. This is a dish to keep you warm and satisfy all your taste buds. Winter is in full force and I'm sure you're all starting to feel it. At this time of year, with the nights longer and days shorter, your body, understandably, needs an extra bit of support.
Your immune system, circulatory system, and digestive system all need a helping hand at this time of year—and this recipe is packed full of essential nutrients (Vitamin C, Zinc, Vitamin B12, Omega-3s, Vitamin E), along with gut supporting properties to increase serotonin production (the happy hormone) to help keep you in good health and spirits through the winter months.