Fran Drescher Practices, Preaches Toxic-free Preventative Lifestyle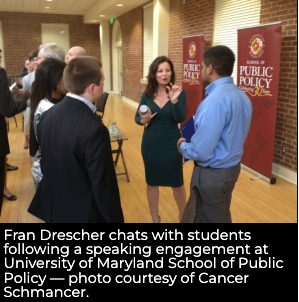 Actress Fran Drescher, best known for creating and starring in 90s sitcom The Nanny and currently appearing as the step-mother in Cinderella on Broadway, has taken on a role as a health and cancer education advocate since winning her own battle with the disease.
Back in 2000 — after being misdiagnosed and mistreated by eight doctors over a two-year period — the New York native was finally given the answer: uterine cancer. That June, she underwent a radical hysterectomy at Los Angeles' Cedars Sinai Hospital and today, at age 56, remains cancer free.
Drescher wrote a book about her experience, 2003's Cancer Schmancer, which became a New York Times bestseller. Four years later, on June 21, the seventh anniversary of her operation, she launched the Cancer Schmancer Movement and Cancer Schmancer Foundation "to transform women from patients into medical consumers, and to shift this nation's priority from searching for a cancer cure towards prevention and early detection of cancer," she writes on the web site.
CancerSchmancer.org is loaded with information. There's an easy-to-read section entitled Early Detection with risk and warning signs "cheat sheets" on all kinds of cancer — breast, melanoma, pancreatic, thyroid, lung, colorectal, Non-Hodgkin, gynecologic, kidney and more. There is a Prevention section that covers everything from healthy eating and exercise to sun safety and beauty care; and a political Advocacy section urging women to call or write members of the United States Congress for safer cosmetic products.
The extensive web site also includes info on Drescher's early detection Fran Vans, a free mobile service offering mammograms to low income, uninsured or under-insured women (currently in California and New York); a downloadable guide for hosting a Trash Cancer detox your home party; and We The Future Youth Movement with videos from kids and instructions for registering your Club.