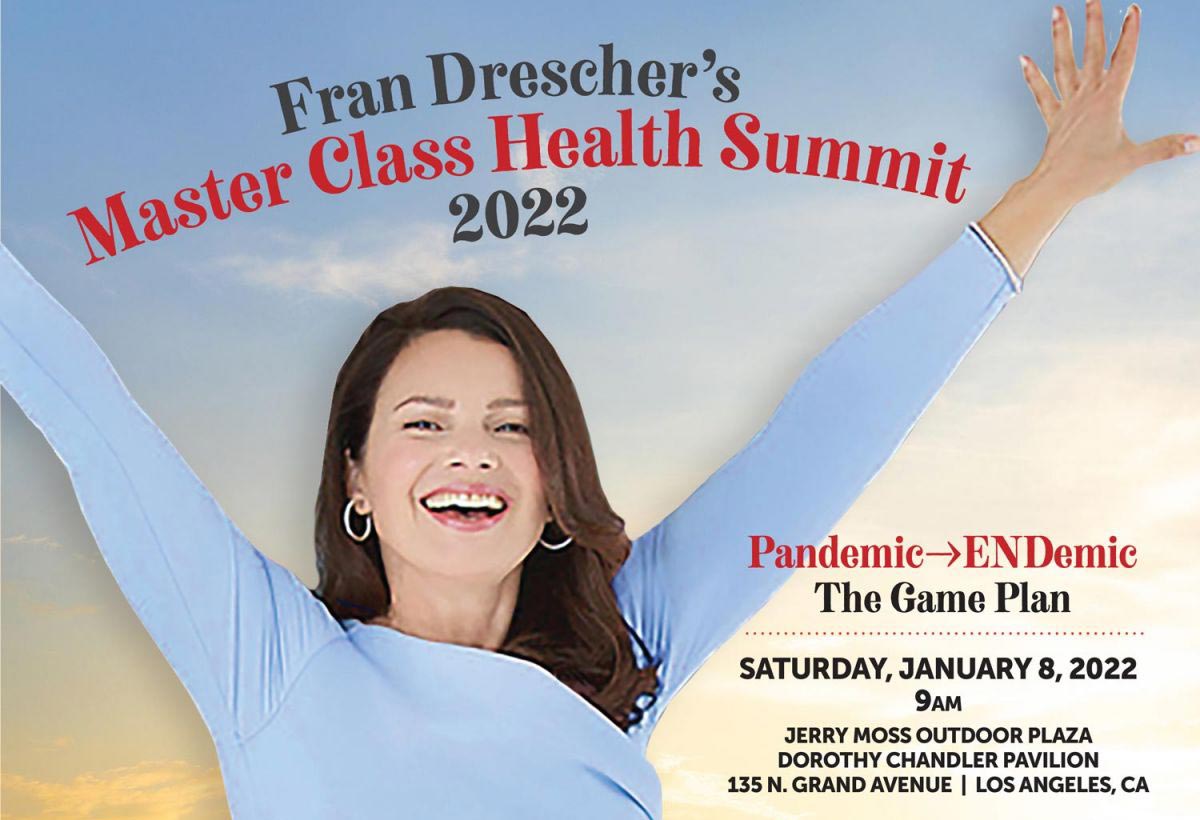 Fran Drescher's Master Class Health Summit is a mind-expanding, life-changing day that explores how to leverage the lessons of the pandemic to take control of your and your family's future health.
We provide participants with vital information to help to build immunity, improve nutrition and diet, care for our mental health, and much more. There will be a multitude of interesting, informative panels and interviews with fascinating, groundbreaking experts including Deepak Chopra, Dr. Cary Presant, Carrie Ann Inaba, David Kessler, Dr. Daniel Amen, Dr. Aly Cohen, and many more.
Even if you can't make it to the summit, you can still be part of the day by honoring someone on our Warrior Wall. See details below.
---
We will follow all local and state covid safety guidelines. All guests, staff, and volunteers must submit either proof of vaccination or a negative covid test within 48 hours before the start of the event.
---
---
Warrior Wall
Speakers
---
Topics
Pandemic -> ENDemic, Fran Drescher
Diet-Related Disease & COVID. Why Aren't We Talking About This?, Helena Bottemiller Evich
The Exposome: All Exposures from Conception to Death, Cary A. Presant, MD, FACP, FASCO
What You Can Do Right Now to Detox Your Lifestyle, Aly Cohen, MD, FACR, FABOIM
Oral Health and COVID, Dr. Rouzita Rashtian
Preventing Emotional Pain from Turning Into Physical Dis-ease, Deepak Chopra
Functional Medicine v. Conventional COVID Modalities, Dr. Matthew Cook
Healthy Grief, David Kessler
Psychedelics in Anxiety and Depression, Albert Garcia-Romeu, Ph.D.
Whole Person Psychiatry, Dr. Daniel Amen
My Personal Health Journey, Carrie Ann Inaba
A Post-COVID Game Plan, Fran Drescher
Healing Yoga Practice, Paul Denniston
---
Made possible by support from:
This event would not be possible without the generosity of:
Lauran Bromley
Pamela Gale
Lonni Glickson
Rebecca & Brett Kelly
Jennifer & Brad Levin
Mary Ellen Moschetti
Elizabeth Munson
Beth Rudin DeWoody, The May and Samuel Rudin Family Foundation
Evan Sacks
---
Watch highlights from past Health Summits